Introduction
Embark on an exhilarating 11-day motorcycle adventure through the enchanting landscapes of Bhutan with our West-East Motor Biking Tour. Beginning in the Indian city of Siliguri, you'll traverse into Bhutan, experiencing the mesmerizing beauty of this Himalayan kingdom. Your journey will take you through Phuentsholing, Paro, Thimphu, Punakha, Wangdi, Trongsa, Bumthang, and further east to Mongar, Trashigang, and Trashiyangtse. Along the way, you'll explore ancient monasteries, lush valleys, high mountain passes, and vibrant towns. Ride through the diverse terrain and enjoy the fragrance of lemon grass in the east. Experience the unique culture and traditions of Bhutan as you visit dzongs, temples, and vibrant festivals. Your journey culminates as you ride to Samdrup Jongkhar and onwards to Guwahati in India, completing an unforgettable motorcycling adventure in the Himalayas.
Day 01: SILLIGURI – PHUENTSHOLING (Dist. 180 km 4 hrs ride)
Arrived P/ling riding through the Indian District of Jalpaiguri on the wide spread road. Complete the Immigration formalities at Indian Check Point and entry the Bhutan.
Day 02: PHUENTSHOLING – PARO. (Dist. 150 Km, 6 hrs ride)
Morning after completing the immigration formalities and start slowly for Paro, through the hilly road. Since the Highway Widening work is underway, road condition is not good, you need to ride cautiously. One can enjoy the natural sub- tropical vegetation.
Stop on the way for lunch and after lunch ride continuously, the road is little Zigzag, after while you will riding down hill and again straight stretch of road till you reach Paro, only town with Airport in Country. O/N Hotel
Day 03: PARO- THIMPHU (Dist. 56 Km 1 ½ hrs ride)  
Early morning hike to Taktshang, the Tiger's Nest (one and a half hours walk). This magical monastery clings to a vertical granite cliff 3,000 ft above the valley floor. The monastery unfortunately got burnt in 1998 but it has recently been reconstructed.
On the way back visit Kyichu Lkakhang, built by Tibetan King among 108 Chortens he built two are in Bhutan, the other one is Bumthang.
After lunch visit the National Museum and later ride to Thimphu the Capital town of the country O/N Thimphu
Day 04:THIMPHU – PUNKHA/WANGDI (Dist. 72 Km, 3 Hrs ride)
Morning ride through the street of Thimphu and visit Memorial Chorten built in the memory of Lt. His Majesty the King by Royal Queen Mother, visit Motithang mini Zoo to see the National animal "The Takin" ride till the road, the ride down to the viewpoint from where you have magnificent view of Thimphu valley. Have orverlooking view of Thimphu Dzong (Tashichhodzong), ride along to the National Library to see the large collection of traditional books, Folk Heritage museum where you can see the typical Bhutanese house and their way lifestyle.
After lunch ride to Punakha & Wangdi valley, on the clear day one can see the beautiful view of the eastern Himalayan ranges. On the pass top the 108 chortens are built by HRH Ashi Dorji Wangmo and above the Druk Wanggay Lhakhang also built.
Descend on the Punakha and Wangdi, first visit Punakha Dzong, which is the winter home of Je Khenpo (the chief abode) the head of central Monastic body and also this place is the old capital of the country. In the evening ride to Wangdi. O/N Hotel.
Day 05: WANGDI – TRONGSA (Dist. 140 Km, 4-5 hrs ride)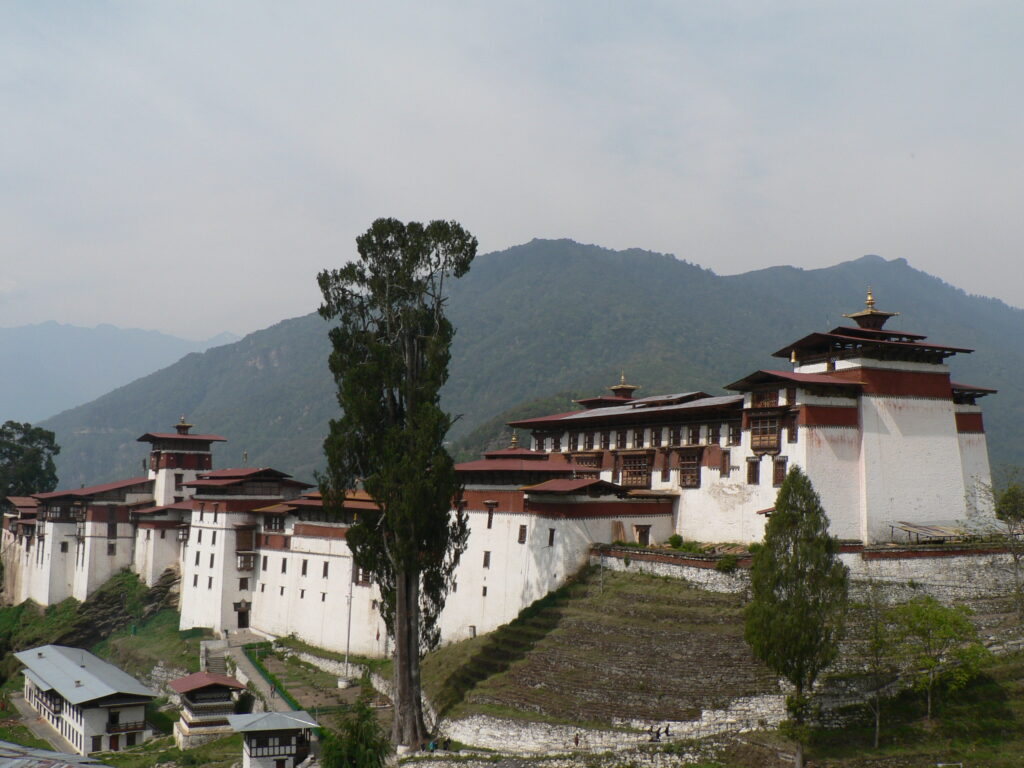 Early morning drive to Trongsa, while on the way make a short visit to Phobjikha valley, the winter home of rare species bird Black neck crane, Do sightseeing in around Phobjikha valley. Lunch at Phobjikha, after lunch ride to Trongsa across the Pelela pass (ht. around 4000m) where there wills a lot of snow in the winter months. You will really experience the snow and yak herder in this area; visit Chenrebji Lhakhang which is built in typical Nepali style. O/N Trongsa
Day 06: TRONGSA – BUMTHANG. (Dist. 68 Km, 2 hrs ride)
Morning visit Trongsa dzong the historic and largest dzong of the country, ride Bumthang, on the way stop at Chume Valley and visit Handloom shop, see the Yatra & Mathra the handloom product of locality. Later proceed to Bumthang, after lunch visit Dzong and scroll down town.
Lunch at Bumthang after lunch do sightseeing of Bumthang Valley, visit Jambay Lhakhang, which is one of the sacred religious site of Buddhist people, this temple is built by Tibetan King among 108 Chortens. Also visit Kurjey Lhakhang, where you can see the back imprint of Guru Rimpoche's. O/N Bumthang
Day 07: BUMTHANG – MONGAR. (Dist. 150 Km, 6 hrs ride)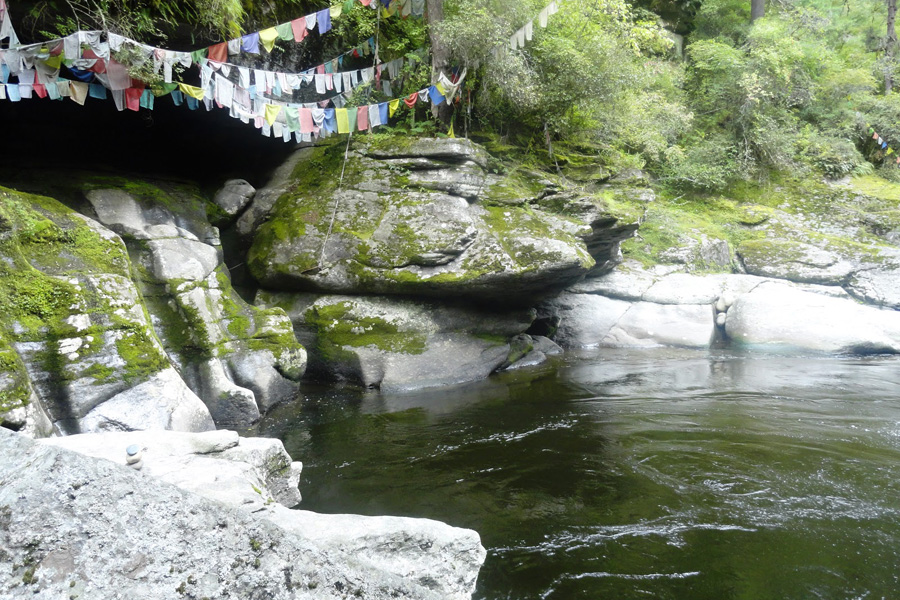 Morning start for Mongar, on the way visit Membar Tsho (the burning Lake) where Lam Pama Lingpa had believed to found hidden treasures of Guru Rimpoche.
Continue to ride cross the native villages and can see the people and their culture. You will have to cross the Thrumshingla pass (3750m) the highest motorable road in the country. It is National Park, where around 40 species of Rhododendron are found. If your visit falls in spring, you will see rhododendron blooming on the road side. Now slowly go downhill till you reach Kurizampa (Bridge) and ride uphill little then you reaches Mongar Town. O/N Hotel
Day 08: MONGAR – TRASHIGANG (Dist. 92 Km, 3-4 hrs rides)
Today's ride is easy, so you can start slowly, do sightseeing in and around Mongar. Your ride will descend slowly, only you come across low pass called Kori la. You feel warmer on the way, as this region famous for Lemon grass oil extraction, while riding you will get the smell lemon grass oil. The roadside settlements are most road workers and PWD offices. You reach Trashigang for lunch, after lunch, scroll down town Evening at leisure. O/N Lodge.
Day 09: TRASHIGANG – TRASHIYANGTSE EXCURSION (Dist. 53 km one way)
TranshiYangtse is eastern most district of the country which shares the board town with Indian State of Arunachal Pradesh the TANG Region. Many people from Arunachal come into the Trashiangtse to witness the festival during the festival time in Trashiyangtse.
Roads are narrow but have very less traffic, so you can enjoy riding on this road. On the way visit the Gom kora temple, on the roadside. Enjoy the scenic view of the valley, visit dzong etc, have earlier lunch.
After lunch visit Chorten Kora, this is largest stupa in the country, similar to Budhnath temple in Nepal and is extra copy of it. Later ride back to Trashigang, evening at Leisure. O/N Lodge.
Day 10: TRASHIGANG – SAMDRUPJONGKHAR (Dist. 180 Km, 6 hrs ride)
Today's ride climbing around the a ridges and geading to south, the road passes the settlement of Pam, pass the Sherubtse College at Kunlung, which is the only degree college in the country, established by Father William Mackey (a Jesuit priest in 1970s). You will come across the institute of disabled (Braille) at Khaling. KHaling is also famous for Handloom Industry, where the porjest has set up.
Slowly ride down to southern foothills of Samdrupjongkhar, weather will hotter now. O/N Hotel.
Day 11:SAMDRUPJONGKHAR –GAUHATI (INDIA, Dist. 100 Km 3 hrs ride)
After completing the Immigration formalities in Bhutan, ride for while and again stop for Indian Immigration formalities. Road condition is not good, ride along the stretch of road, easy ride till you reach Guahati. We can catch the flight to DEL/CCU at 1330 hrs or stay overnight at Gauhati.
Note: You can also start the Journey from Gauhati/Samdrupjongkhar – P/ling/Silliguri or fly out from Paro.
PACKAGE COST FOR LUXURY HOLIDAYS IN BHUTAN 06DAYS
Group Size
3* Package
4* Package
5* Package
1 Person
US $3400
For 4* rate, contact us
For 5* rate, contact us
2-3 Persons
US $3000
For 4* rate, contact us
For 5* rate, contact us
4-7 Persons
US $2700
For 4* rate, contact us
For 5* rate, contact us
8-13 Persons
US $2400
For 4* rate, contact us
For 5* rate, contact us
14-20 Persons
US $2200
For 4* rate, contact us
For 5* rate, contact us
Book Now!