Introduction
Prepare for an exhilarating 18-day journey through the pristine landscapes of Bhutan on the Dur Hot Spring Trek. Beginning in the charming town of Paro, your adventure unfolds with visits to ancient temples, monasteries, and fortresses, including the iconic Tiger's Nest Monastery. As you make your way to Thimphu, the capital of Bhutan, explore the Memorial Chorten and soak in the rich culture. The trek itself is a captivating experience, leading you through dense forests, across majestic mountain passes, and into the tranquil Dur Hot Springs, where you can rejuvenate amidst nature's wonders. Witness diverse wildlife and immerse yourself in Bhutan's unique culture. The journey concludes with more sightseeing and shopping in Thimphu before your departure from Paro International Airport. This trek is perfect for adventurers seeking a harmonious blend of nature, culture, and relaxation in the heart of the Himalayas.
Day 01: Arrive Paro by Druk Air
Our staff will greet you upon arrival at Paro Airport (7,000ft), transfer to Hotel, Check in the Hotel. Afternoon visit to Ta-Dzong (National Museum), Paro Dzong and Walk down to bridge and scroll arond the Ugyen perli Palace. Overnight hotel.
Day 02: Paro sightseeing.
Drive the winding road northwest up the Pa Chu to the Drukgyel Dzong, the ruined for, which once defended this valley from Tibetan invasions. Mount Jhomolhari, the sacred summit, reaches skyward beyond the Dzong. This can be viewed on a clear day. On the way back you visit a Kichu Lhakhang one of the oldest temples in Bhutan with Jambay Lhankhang in central Bhutan. It was built at 7th century by the first king of Tibet Songtsen Gombo to sub due the Ogress threaten to the Buddhism and it is believed that he had built 108 all in total two were in Bhutan. Take a hike to Taktsang (means) Tiger Nest on cliff of the rock. Overnight Hotel.
Day 03: Paro – Thimphu. 65 Km. 2 Hours. 2350 M.
This morning follow the winding road beside the Pa Chu (Chu means river or water) downstream to its confluence with the Wangchu, then up valley to Thimphu, the capital of Bhutan. Check in and lunch at the hotel. After lunch visit the Memorial Chorten. Here the faithful circumambulate the shrine dedicated to the late king. Overnight Hotel.
Day 04: Thimphu – Trongsa. 205 KM.  8 Hours. 2200M.
In the morning early breakfast we will drive to Punakha District. It is 77 Kilometers. The drive will take 3hours from capital Thimphu and it lies at the altitude of 1350 m from sea level. It is sub- Tropical area. On this way we will come across Dochula pass 3150 m and on clear day we would witness whole ranges of eastern Himalayas from here. We will follow all way down hill till we reach to Punakha. The temporal ruler of Bhutan Shabdung Ngawang Namgyel built it in 1637 in between two rivers called PO-CHU and MO-CHU. (Male &Female)
In afternoon, we will drive to Trongsa. It is 128 kilometers and 5 hours drive from Punakha. Wangdue is another District and between this two it measures of only half hours drives. Same man built it in 1638 later a one-year of Punakha Dzong. The road will climb all the way to Pel-ela pass. It is 3300m. It is like mark between East & west and from here we will drive all the way down to Trongsa. But on the way we will come across Yak herder camps and encounter with Yaks especially during winter as well we will see the high Himalayan villages like Rukubji and Chendbji. All the houses cluster at one place and fields at another.
Day 05: Trongsa – Jakar (Bumthang). 68 KM.  3 Hours. 2600 -+ M.
Drive to Jakar takes approximately 3 hours. Tales of the great teacher Guru Padmasambhava dominate this holy valley. From the viewpoint you can see Jakar Dzong "the castle of white bird". Lunch at tourist lodge and Afternoon hike up to Lame Gompa, a place built by the 1st king for his two Nun sisters. Outside the Gompa one can see traditional Bhutanese papermaking. Overnight Hotel.
Day 06: Bumthang – Bumthang.
Bumthang is different from all the other valleys in Bhutan. It is very spacious and open ranging in altitude from 2600m to 4000m. Bumthang is a heaven for hikers and Trekkers, not to mention the numerous beautiful and important Buddhist monasteries and pilgrimage sites, making it the Cultural and Historic center in Bhutan.
One could spend months exploring this fascinating valley. Almost every little valley or hill has a background of interesting myths and legends about Kings, Buddhist masters and Serpents. Bumthang is especially dominated by the religious influence of Guru Padamasambhava (believed as second Buddha 7th –8th A.D) and his reincarnation the Treasure Finder. Terton Pemalingpa from 1450-1521. Who is known to have discovered many sacred Buddhist texts hidden by Guru Padmasambhava (Guru Rimpoche) in different places.
Take a walk up to Tamshing monastery, founded by Terton Pemalingpa, where about 200 monks reside. Visit the historical temple. Visit to Wangdichholing Palace, Jambay Lhakhang, Kurjey Lhakhang, and an oldest monastery in the Kingdom. All the Kings of Bhutan are taken for their cremation rites to Kurjee Monastery. Visit some more temples.
Drive to the sacred Mebartso (Meaning Burning Lake). The important of the site is indicated by the extensive array of prayer flags and is considered as one of the most holy places for Buddhist pilgrimage. Evening have free time in town.
Day 07: Bumthang – Gorsum. 18 KM. 6-7 Hours. 3120M.
After breakfast the transport will reach you up to the trek point just below Kurje lhakhang, one of Bumthang's most renowned temples. The trek route takes you along the Chamkhar Chu, a river known for its richness in trout. The trek trail for Bumthang to Gorsum is rather gradual. Overnight camp.
Day 08: Gorsum – Lungsum.12 KM. 5Hours.3160 M.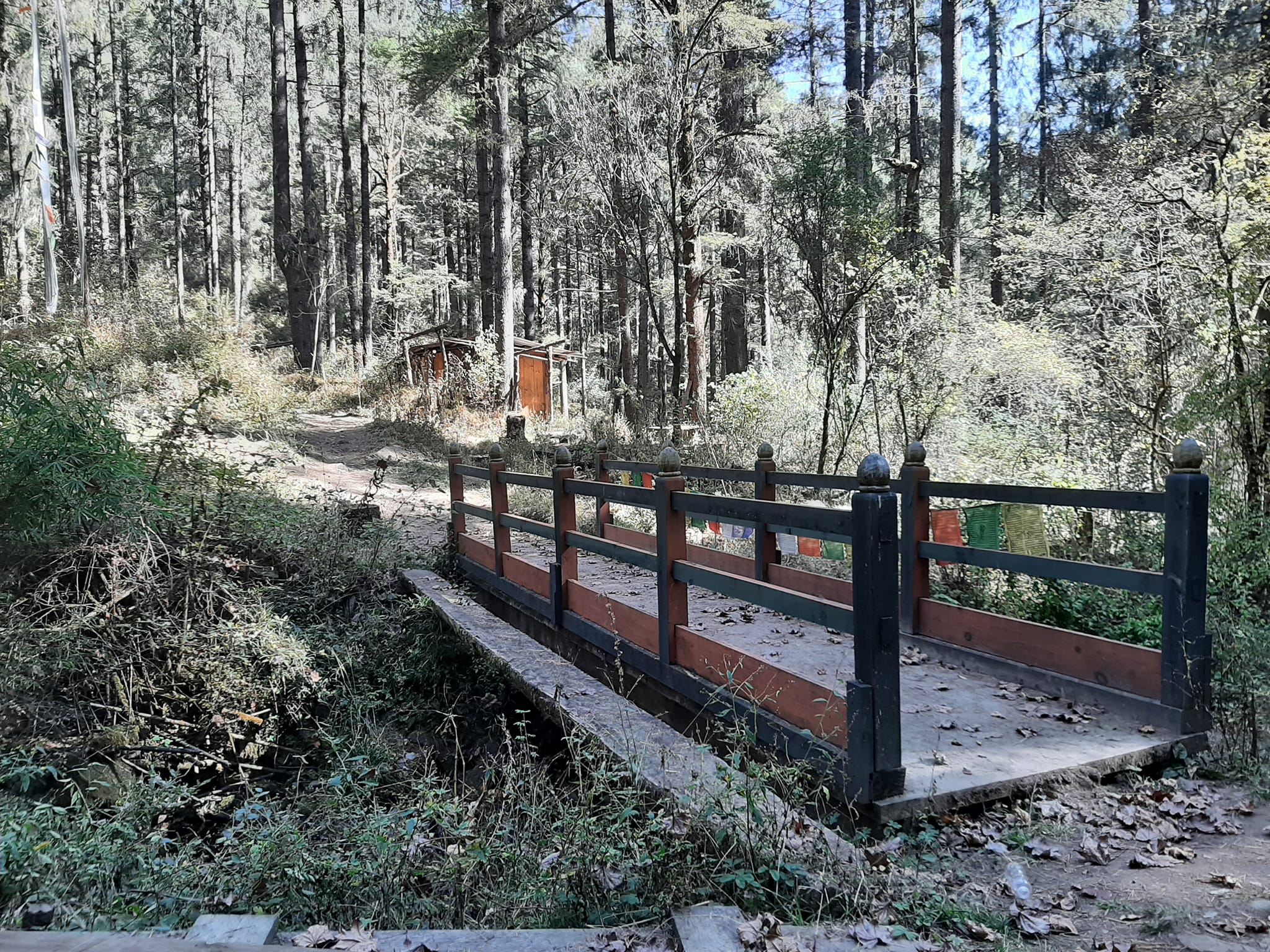 Today you will be walking through dense forests of spruce, hemlock, cypress, juniper and maples. The trail is more or less muddy and ascends gradually till you reach to your campsite. Overnight camp.
Day 09: Lungsum – Tsochenchen. 15 KM. 6-7 Hours. 3100M.
Vegetation is dense from Tsochenchen all the way uphill to the Julila pass, which are about 4,700m. The vegetation from Lungsum to Tsochenchen is more or less the same till you reach near to your campsite. The camp will be above tree line. Overnight camp.
Day 10: Tsochenchen – Dur Tsachu. 18 KM. 6 – 7 Hours. 3400M.
Trek from Tsochenchen is uphill till you reach the Julila pass at about 3,400m. From here if the weather is clear surrounding mountains can be viewed. After crossing the pass the trek trail descends till you reach the campsite. Musk deer, herds of Blue Sheep and Himalayan bear may be seen en route. Overnight camp.
Day 11: Dur Tsachu – halt.
After a late breakfast relax in the hot spring or hike in and around the camp. Overnight camp.
Day 12: Dur Tsachu – Tsochenchen. 18 Km. 5 – 6 Hours. 3100M.
Trek trail from Dur tsachu is uphill till Julila. After crossing the pass the trail descends till you reach the campsite. Overnight camp.
Day 13: Tsochenchen – Gorosum. 27 KM.  9 Hours. 3120 M.
Today the trek begins early, as the trail is long. The trail drops gradually down for about 2 hours till you reach campsite. Overnight camp.
Day 14: Gorsum – Bumthang. 18Km. 5-6 hours.
From Gorsum descend downhill till you cross the Dur village bridge. Then follow the new motor road till you meet up with transport. After lunch, leisure time and free. Overnight Hotel.
Day 15: Bumthang – Wangdue.
Drive to Wangdue takes about 8 hours. Picnic lunch will be provided at the lodge. Overnight Hotel.
Day 16: Wangdue – Thimphu.
Drive to Punakha. Visit the Dzong when the monks are in Thimphu. Punkha Dzong was the nation's capital until 1955. The remains of Shabdrung, the saint who unified Bhutan in the 17th century, are interred here. The Je-Khenpo, the head abbot of the country, resides here with the monk body from Thimphu during winter. Then drive back to Thimphu over Dochula pass. Overnight hotel.
Day 17: Thimphu sightseeing – Paro.
A whole day Thimphu sightseeing and shopping. Visit the Handicrafts Emporium. Visit the workshop where all the handicrafts are produced. Afternoon visit Tashichhodzong and drive to Paro. Overnight hotel.
Day 18: Departure
Your guide will bid you a farewell at Paro International Airport.
Book Now!