Introduction
Experience the allure of Bhutan with a captivating 5 Nights and 6 Days Tour. Your journey commences in the scenic town of Phuentsholing, where Destiny Bhutan's welcoming team greets you upon your arrival. From there, venture into the heart of Bhutan as you travel to Thimphu, the capital city, and immerse yourself in its rich culture and sightseeing. Explore the cultural treasures of Punakha before returning to the enchanting town of Paro. Here, the iconic Tiger's Nest Monastery awaits your visit. The tour concludes as you return to Phuentsholing, with cherished memories in tow. Delight in comfortable stays at handpicked 3* or 4* hotels, making this journey an unforgettable experience.
Day 01: Arrive Phuentsholing from Bagdora/NJP/Alipurduar
Destiny Bhutan staff will greet you upon arrival at Airport, transfer to Phuentsholing/Jaigoan. O/N Hotel
Day 02: Phuentsholing – Thimphu (Dist. 170 Km. 4 Hrs drive)
Morning transfer to Thimphu and Sightseeing
Day 03: Thimphu to Punakha excursion
Morning complete sightseeing Punakha, sightseeing and eveing drive back to Thimphu. O/N Hotel
Day 04: Thimphu to Paro.
Morning transfer to Paro and sightseeing in Paro and View Tiger nest Monastery. O/N Hotel
Day 05: Paro – Phuentsholing (Pling).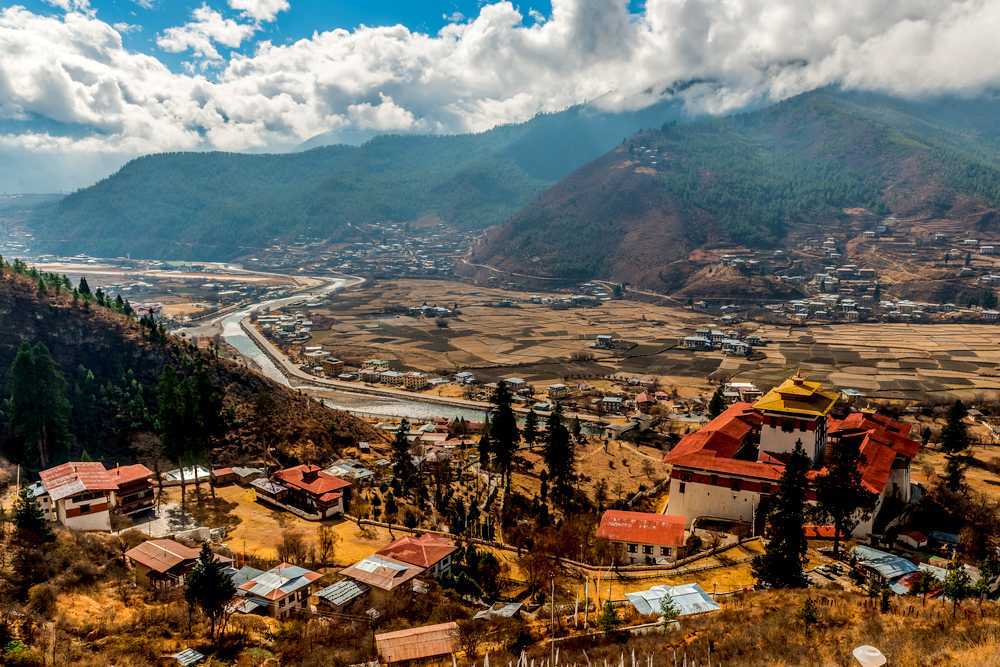 Morning complete sightseeing at Paro and transfer to Pling
Day 06: Departure
Morning transfer to Bagdora/NJP for onward journey
Package cost Per person for Indian National only
Hotel Types
Package Type
2 Pax
4 Pax
6 Pax
8 pax
10 Pax & Above
Extra Bed
3* Types
CP (Bed & Bfast)
Rs.26,750/-
Rs.25,550/-
Rs. 24,750/-
Rs.23,500/-
Rs.21,500/-
Rs.1200/-
MAP (Bed, Bfast
& Dinner)
Rs.29,500/-
Rs.27,000/-
Rs.26,750/-
Rs. 25,500/-
Rs. 23,250/-
4* Types
CP (Bed & Bfast)
Rs.54,500/-
Rs.48,500/-
Rs. 47,750/-
Rs.46,500/-
Rs.45,500/-
Rs.2000/-
MAP (Bed, Bfast
& Dinner)
Rs.62,500/-
Rs.58,500/-
Rs.57,500/-
Rs.54,500/-
Rs. 52,500/-
Package for International Client (Dollar paying) please contact us below details
Note: All the above rates are base on the hotels category mention below
Transportation:
2-4 Pax: Hyundai Cetra/Seltos and WangR etc.
4-8 Pax: Toyota Haice Bus, Indian Travera, Scorpio, Innova etc
10 & above: Toyota Coaster Bus or Echer Bus, Travelers Tempo

For Toyota Prado (4X4) SUV Car: INRs.6000 extra day
Hyundai Santa Fe or any SUV Car: INRs.5000 extra day

Types of Hotel:
Thimphu :
3* Types: Hotel Amodhara, Hotel Gakyil, Hotel Phuentshopelri, Hotel Pedling
Hotel, Taraphendeyling
4* Types: Hotel Druk/Hotel Ariya & Hotel Osel/Norkhel
5* Types: Hotel Taj Tashi, Le Meriden and Terma Linca Resorts
Paro:
3* Types: Mandala Resorts, Namsayling Resort, Hotel Drukchen
4* Types: Hotel Olathang, Tashi Namgay Resort , Metha Resort

Punakha/Wangdi
3* Types: Hotel, Hotel Pema Karpo, Puansangtsu Cottage, Drabchu
4* Types: Hotel Four Boutique, Hotel RKPO (Green Resort)
Gangtey/Phobjikha
3* Types: Hotel Gakiling
4* Types: Hotel Dewachen
Flights are available from Bagdora, Kolkatta, Gauhati, Delhi and few un-schedule flights from Mumbai as well. We also cater the group coming by train…like NJP, New Alipurduar, Cooch Bihar and Hashimara. (Extra transport cost will be applicable for client coming from these sector)


Book Now!